Welcome to Remote Scrum Study! We are an Authorized Training Partner for SCRUMStudy.com and we specialize in live, instructor-led virtual training. While you can certainly take our courses entirely online, we encourage you to consider selecting a class with a live instructor so you can get your questions answered promptly.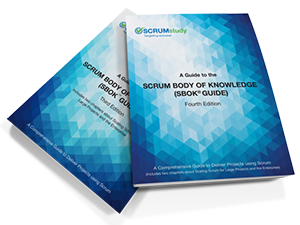 Scrum Book of Knowledge,
Fourth EditionGetting Scrum Certifications can change your career for the better. Our students benefit from the high-quality materials and detailed insights in the Scrum Book of Knowledge (SBOK™). Having a scrum certification from ScrumStudy.com sets you apart and makes you more competitive when applying for and interviewing for both contract and permanent roles. 
We also focus on the challenges of leading a scrum team both remotely and in a hybrid work situation. Our forthcoming course on leading remote teams will add an extra layer of expertise to your scrum skills. 
Your instructor, Toolie® Garner, has been a Scrum professional for over 10 years (working on a dozen projects), so she has plenty of practical advice to offer you. Have a look at the schedule of available classes, and get started on a new path for your career.